The 'Paul Vossberg' rhododendron may be arguably one the oldest rhododendrons in Laurelwood Arboretum.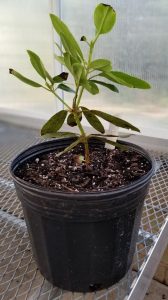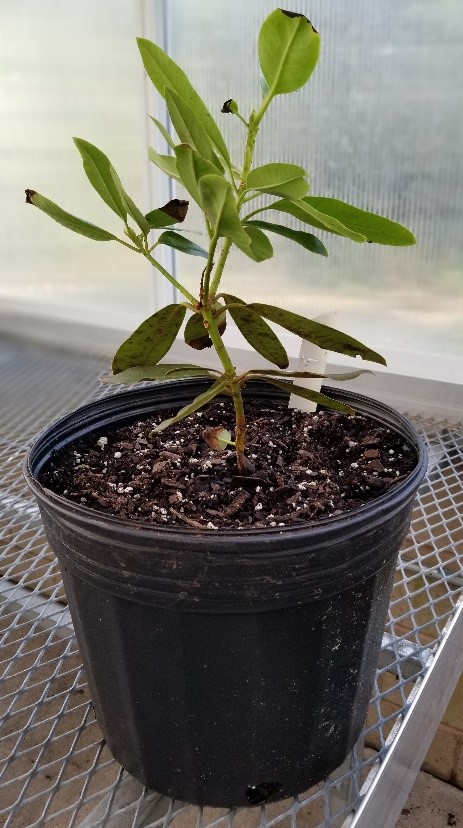 Paul Vossberg of Westbury, Long Island joined the Westbury Rose Company in 1943 where he perfected a method of successfully rooting cuttings of rhododendron varieties previously difficult or impossible to root. He was an original member of the Dexter Study Committee, which was formed after the death of Charles O. Dexter, one of America's pioneer rhododendron hybridizers, to try to determine which promising varieties of Dexter's hybrids were still growing in various gardens. He was a charter member of the New York Chapter of the American Rhododendron Society, where he met and started a friendship with John and Dorothy Knippenberg which lasted a lifetime.
In 1965, Mr. Vossberg gave a small 15-inch unnamed rhododendron to Dorothy Knippenberg to propagate at Laurelwood Gardens. She grew the young plant to its first flower, and she named it 'Paul Vossberg.' It was introduced commercially at Laurelwood Gardens in 1975. Dorothy registered the new named hybrid with the American Rhododendron Society in 1994. The original 'Paul Vossberg' rhododendron still grows in Laurelwood Arboretum and can be seen on Ridge Road. A second one is located at the southerly end of Dorothy's Way in the arboretum.
Interestingly, our newly propagated 'Paul Vossberg'  rhododendrons are approximately 15-inches in height which is the same size of the small rhododendron that Paul Vossberg gave to Dorothy Knippenberg in 1965.  In 2018, members of Laurelwood's Rhododendron Study Team took cuttings from the two 'Paul Vossberg' rhododendrons in the arboretum and tried to root the cuttings in a covered rooting box in the Educational Greenhouse. Several of the cuttings were successfully rooted and potted, and the young plants have been cared for in the greenhouse for two years. The plants were placed in the fenced pen outside the greenhouse this past spring, and they have been repotted recently (shown here). The plants will be over-wintered in a cold frame. We plan to plant them in the arboretum when they are ready to produce their first flowers.
By Joe Di Giacomo