halfway between Storm King and Grounds for Sculpture
lies Laurelwood Arboretum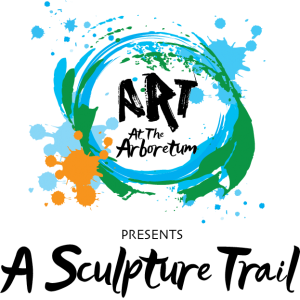 A Sculpture Trail, part of the continuing Art at the Arboretum series, is a multi-year project to benefit Laurelwood Arboretum. EXPLORE … installations are underway!
Carefully and thoughtfully placed to complement the landscape, foliage, water features, natural light and seasons, 15 unique sculptures created by a diverse group of prominent artists constitute A Sculpture Trail. This multi-year project that will be completed later this year, was conceived to integrate art with nature. These two harmonious concepts will challenge visitors to alter their perceptions of Laurelwood Arboretum. Fabricated from a variety of materials including granite, steel and ceramic bricks, these works of art will appeal to visitors of all ages.  
Aside from giving families, friends, and nature enthusiasts a taste of fine art, A Sculpture Trail – conceived and co-chaired by Laurelwood volunteers and Pines Lake residents Stuart Reiser, the pro-bono attorney for the park and his wife Leslie – is also a fundraising opportunity. A percentage of the proceeds from sales, including a pop-up gallery available during weekends during the summer at the Knippenberg Center for Education, will be donated back to the Friends of Laurelwood Arboretum (a 501(c)(3) non-profit organization) and will be applied to a capital improvement project benefitting the park.
All works have been curated by Scott A. Broadfoot and are available for sale through an exclusive agreement with 
"Sail," by Ken Hiratsuka, is a 88" x 64" x 12" granite sculpture and features a maze-like design formed by one continuous line that never crosses itself. This  captivating piece is representative of Ken's distinct line feature that is consistent across his sculptural works. 
Take a look at
Lorraine Meyer's photo

graphs
of the installation. Read about the
artist
.
"Broadfoot & Broadfoot, A Collection of Fine Art," in Boonton, NJ. In fact, one of our sculptures, "Dyad" by Martha Walker, has recently been sold and will be replaced with a new sculpture this Spring; that will be the ongoing protocol.
HEADING INTO SPRING/SUMMER 2022
More on-site sculpture installations will be coming soon to the Sculpture Trail as well as a summer concert series (in development), free to the public. A selection of musical entertainment to meet a variety of tastes will be offered. This will be a joint project with the Wayne Public Library, Broadfoot & Broadfoot, A Collection of Fine Art, and other sponsors. Stay tuned for details!
Do you have cabin fever and are looking for something special to do with some friends, your family, a community or organization? We have begun taking Spring reservations for small group (up to 15 people) private tours with our Curator, Scott A. Broadfoot, or with one of our docents. Guided tours of A Sculpture Trail can be a pleasant respite from the long winter months and pandemic. Golf carts are available for individuals who may have difficulty walking; the sculptures are located at the top of a steep incline. Please be advised that private tours are chargeable. For more information CLICK HERE.
There are many opportunities to become active in the Sculpture Trail project ranging from helping to facilitate art programs for school age kids, greeting visitors, planning and running events, conducting outreach, and more. If you have an interest in getting involved, we could utilize your talents. CLICK HERE to learn of the many ways to become involved with this exciting endeavor or send an email to: sculpturetrail@laurelwoodarboretum.org
There are many ways to support this exciting project. CLICK HERE
Click on the links below to contribute to this exciting project:
Scott A. Broadfoot, owner of Broadfoot & Broadfoot — A Collection of Fine Art, is a seasoned art expert with well-established relationships within the contemporary art and sculpture world. In addition to running his eponymous gallery, Broadfoot is the current curator (and designer) of two exciting projects: Natirar, a celebrated restaurant and resort located in Peapack/Gladstone, and the Bedminster Farm residential development project, dedicated to environmental sustainability and a healthy and rich lifestyle. Most recently, as the Curator of The Sculpture Trail at Laurelwood Arboretum, Broadfoot has brought the same passion that he has demonstrated on his other projects to A Sculpture Trail with his creative selection of select works from prominent artists around the country and thoughtful placement to promote harmony between man and nature.