The newest arrival for Laurelwood Arboretum's Sculpture Trail is "Ring Top Tower," created by Joel Perlman. It is fabricated from welded steel and measures 108 x 36 x 36 inches. There are now six sculptures on exhibit in this exciting project sponsored by Friends of Laurelwood Arboretum to benefit the arboretum.
For Perlman, sculpting is an adventure and each work is the record and result of an exploration of weight, danger, negative space, and monumentality. His process is tied closely to the materials and to the construction and deconstruction that take place during the sculpture's creation. Perlman often starts by cutting shapes, primarily out of steel, and then welds them together. The obvious joining lines, surface nicks and scratches record the process of creation. Perlman's pieces are also known for the central, open spaces that are integral to his work. These negative spaces help define the work and are as important to him as the sculpture itself.
Photo by Lorraine Meyer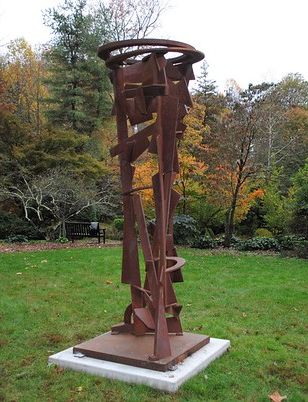 A native of New York City, Perlman earned a Bachelor of Fine Arts degree at Cornell University, Ithaca, NY and a Master's degree from the University of California, Berkley.  
Perlman has been an instructor at the School of Visual Arts in New York City since 1973. His work is included in the public collections of the Hirshhorn Museum and Sculpture Garden, Washington, DC; the Metropolitan Museum of Art in New York City; Storm King Art Center, Mountainville, NY; and the Utsukushi-Ga-Hara Open Air Museum, Japan. Recent solo exhibitions include the Loretta Howard Gallery, New York and ILLE Arts, Amagansett, New York.
A Sculpture Trail is being curated by Scott A. Broadfoot of the Broadfoot & Broadfoot gallery in Boonton, New Jersey. Chairpersons of the project are Stuart Reiser, a partner in the firm Shapiro, Croland, Reiser, Apfel & DiIorio and pro bono attorney for the Friends of Laurelwood Board of Directors, and his wife Leslie, both long-time Pines Lake, Wayne residents. A GoFundMe page has been set up to accept donations for the project. To contribute, please go to GoFundMe – Sculpture Trail 
The work on exhibit in A Sculpture Trail will be available for sale, with a percentage of the proceeds donated to Friends of Laurelwood Arboretum and applied towards a capital improvement project.
Friends of Laurelwood Arboretum is the non-profit conservancy whose mission is to preserve and manage the 30-acre arboretum in partnersip with Wayne Township. For additional information about The Sculpture Trail or the Friends organization, go to www.laurelwoodarboretum.org, To get involved, send an email to  info@laurelwoodarboretum.org or call 973-831-5675.