Two new sculptures were recently installed at Laurelwood Arboretum, bringing the current total to five now on exhibit in A Sculpture Trail. The multiyear project, which will showcase 15 unique works of art, is sponsored by Friends of Laurelwood Arboretum to benefit the arboretum.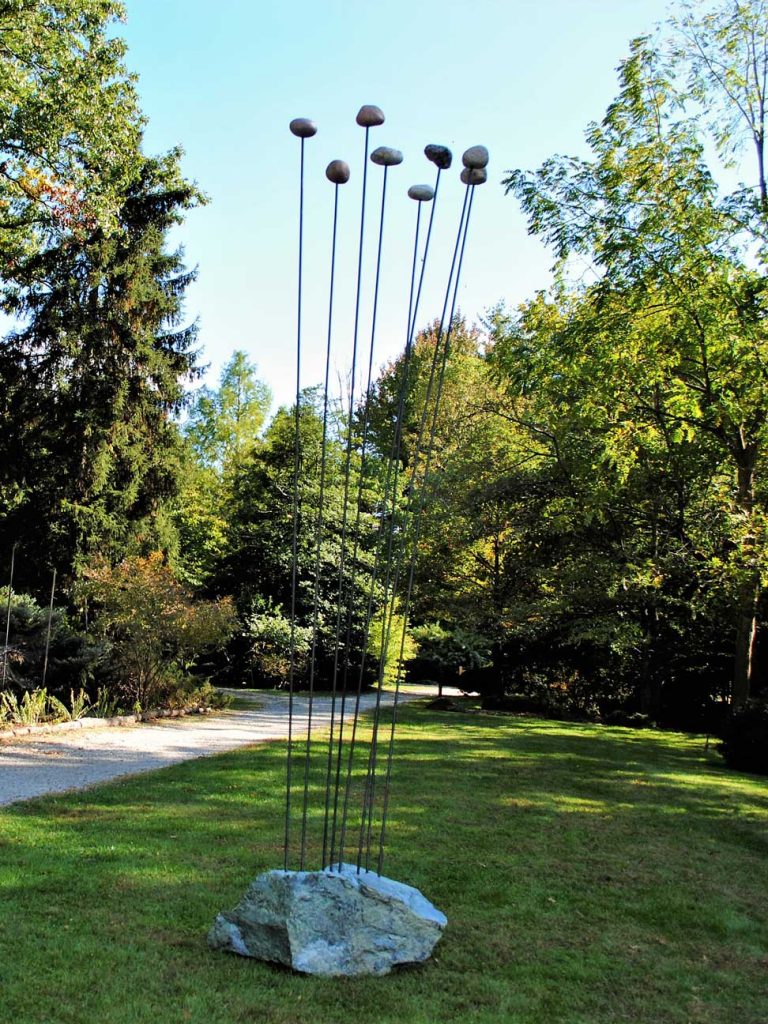 "Magic in the Air," created by Jeffrey Breslow, is a 168" x 37" x 41" piece crafted from Vermont serpentine, steel and granite. Stones—14 feet in the air—are moved by gentle breezes, creating moments of magic. The complex piece was delivered on a flatbed truck and offloaded by a crane.
Breslow, a native of Chicago, begins his abstract sculptures with striking boulders and stones whose shapes inspire his steel structures. His goal is to encourage viewers to appreciate a common connection to nature and affirm the ability to shape our world in exceptional ways.
Breslow earned a Master of Fine Arts (MFA) degree in Industrial Design from the University of Illinois. His interest in design and fascination with form and construction led him to a 41-year career designing children's toys and games. He was president and CEO of Big Monster Toys until 2008, when he chose to pursue his passion of sculpting full-time. His work has been exhibited in Chicago at Willis Tower, the International Sculpture Outdoor Exhibition, the Chicago Flower and Garden Show, and One of a Kind Show at The Merchandise Mart.
 "Gabriella" by James Tyler is comprised of 300 hand-carved ceramic bricks. It is the second of Tyler's work on exhibit in A Sculpture Trail.  "Brickhead Iyemoja," installed earlier this year, represents a stylized figure from the Yoruba religion of West Africa. Tyler's "Brickhead" installations are larger-than-life ceramic heads fashioned from bricks that are reassembled using stainless steel pins.
Tyler received his MFA from Hampshire College, Massachusetts. His work has been exhibited across the United States. In 2006, he was appointed the first Executive Director of the GAGA Arts Center in Garnerville, New York,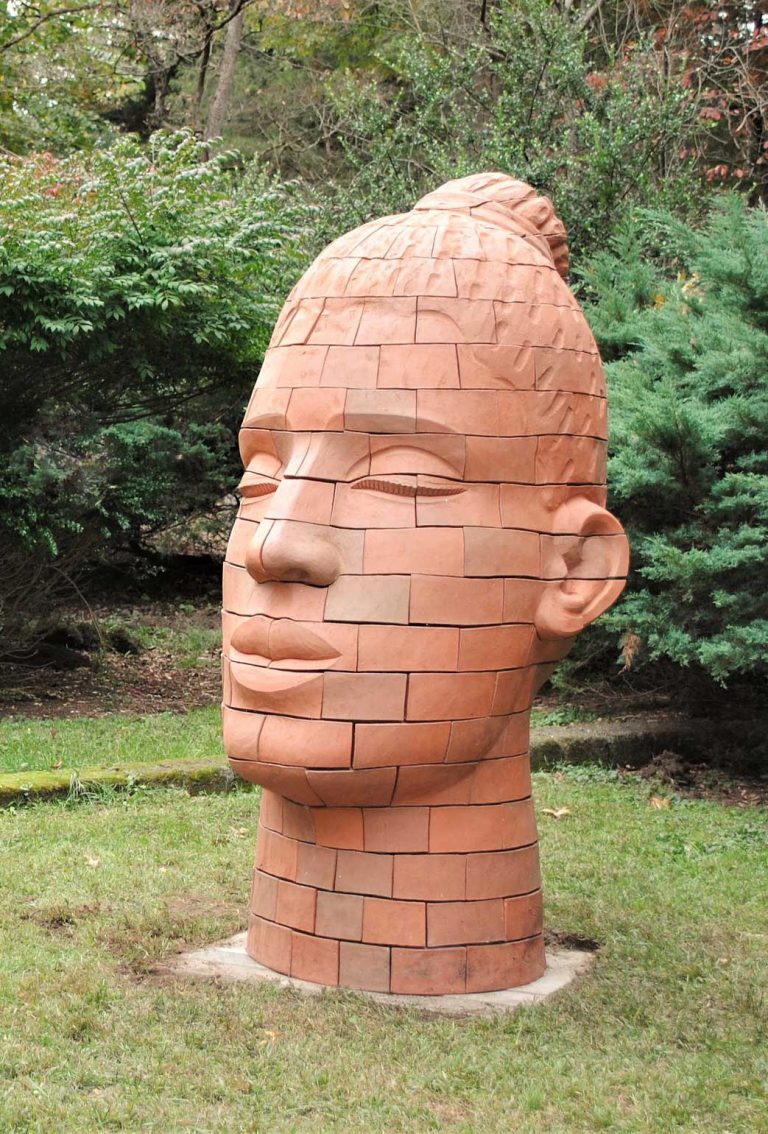 A Sculpture Trail is being curated by Scott A. Broadfoot of the Broadfoot & Broadfoot Gallery in Boonton, New Jersey. Chairpersons of the project are Stuart Reiser, a partner in the firm Shapiro, Croland, Reiser, Apfel & DiIorio and pro bono attorney for the Friends of Laurelwood Board of Directors, and his wife Leslie, both long-time Pines Lake, Wayne residents. A GoFundMe page has been set up for donations to help cover installation and signage expenses for the project. To contribute, please go to GoFundMe – Sculpture Trail  
The work on exhibit in A Sculpture Trail will be available for sale, with a percentage of the proceeds donated to Friends of Laurelwood Arboretum, a 501 (c)(3) non-profit.
Photos by Lorraine Meyer