Bill Barrett is known primarily for his large-scale outdoor public sculptures. His sculptures of fabricated aluminum, bronze, or steel address the interplay between positive and negative space with grace, elegance and exquisite balance.
Micajah Beinvenu's pieces evoke emotion that invite us into spaces that reflect the enormity of the natural world and the human experience in relation to it in the moment.
Jeffrey Breslow is a nature lover, and his inspiration unusually starts from nature; in this case stones.
Using a crane to create his granite sculptures, Harry Gordon believes that his work is not complete until it is viewed by the public. "It is as if they get their batteries charged with each person that sees them."
Richard Heinrich listens to music as he works in his Tribeca studio, and the titles of his work often reflect the strong influences of Charles Mingus, Thelonious Monk and others.
Ken Hiratsuka is driven by his vision of art's capacity to transcend the differences of nations and languages and his work can now be seen in permanent public sites in both urban and natural environments in 21 countries.
Robert Koch's pieces attempt to challenge the inherent behavior of the materials, as if to capture aspects from nature such as the movements of a leaf in the wind, the swaying of reeds, or even the split second a seed begins to germinate.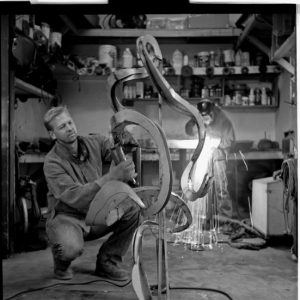 Jon Krawczyk pushes the boundaries of his medium by transforming steel and bronze into a study of the human condition. Lauded for his ability to turn metal into large scale biomorphic sculptures that can strike one as having their own ubiquitous presence.
Throughout the 1990's, Ms. Lavin worked on a diversity of projects designing everything from posters for music venues, theater sets, and costumes, to commercial interiors and vintage hot rod cars. Winning accolades for innovation and intellectual design approaches.
Together the stone and Ulla tell a story. Stone is star stuff and of the ages. She feels a kinship with stone. This awareness is expressed as she tries to integrate the nature of the stone with her vision of the nature of things.
For Joel Perlman, sculpting is an adventure and each work is the record and result of an exploration of weight, danger, negative space, and monumentality.
John Richie's work explores the relationship between
ancient tribal art forms and contemporary urban life.
James Tyler's unique colossal heads invite us to identify with the world's ceramic heritages. They bring today's faces together with pre-Columbian, South American, Native American, Asian, African, and Western influences.
Martha Walker's metal sculptures, made from meticulously dripped molten steel, often express something deep and personal.