The most recent installation in A Sculpture Trail at Laurelwood Arboretum is "Flight in Abstract," a 51" by 45" by 21" fabricated bronze sculpture created by renowned artist, Bill Barrett. The piece has a sense of movement or dance of the abstract figures with the complex swirls and twists of intertwining bronze. Barrett is known primarily for his large-scale outdoor public sculptures of fabricated aluminum, bronze, or steel that address the interplay between positive and negative space with grace, elegance and exquisite balance.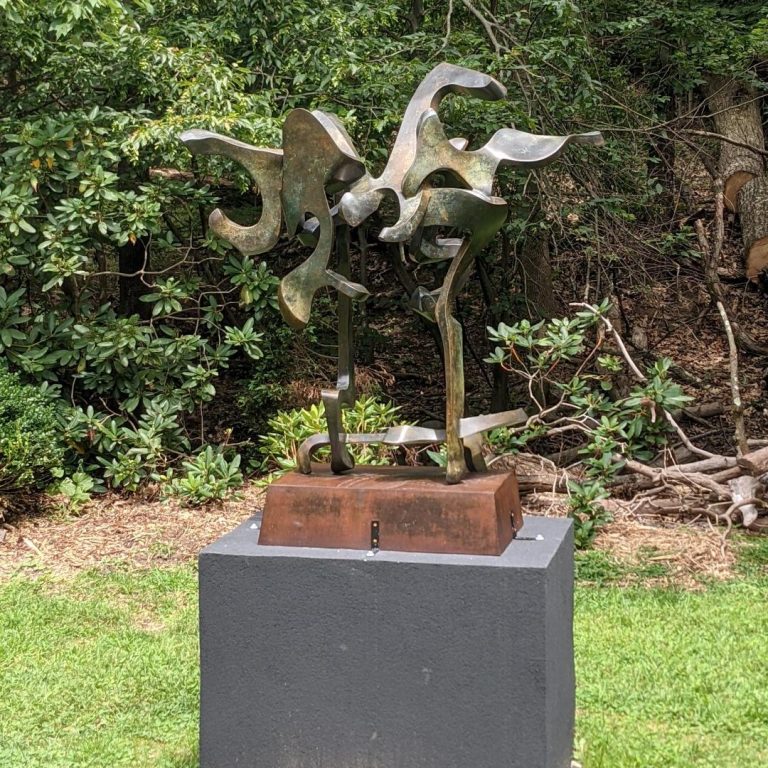 Over the past 40 years, Barrett has exhibited regularly in New York and Santa Fe in solo and group exhibitions. His works are represented in the collections of Grounds for Sculpture in Hamilton, New Jersey; the Museum of Fine Arts in Santa Fe, New Mexico; the Knoxville Museum of Art in Tennessee; and the Virginia Museum of Fine Arts in Richmond. His 9-foot work "Tango" can be seen outside the Cheng Library on the campus of William Paterson University in Wayne, New Jersey.
Barrett earned BS, MS in Design, and Master of Fine Arts degrees from the University of Michigan.
He has taught at Eastern Michigan University, the Cleveland Institute of Art, SUNY New Paltz, Queens College and Columbia University.
"Flight in Abstract" is the 14th installation in A Sculpture Trail. The multiyear project, which will showcase 15 unique works of art, is sponsored by Friends of Laurelwood Arboretum to benefit the arboretum. The sculptures will serve to enhance the park by complementing its landscape and serene setting. The Grand Opening of A Sculpture Trail is scheduled for the weekend of September 18.
A Sculpture Trail is curated by Scott A. Broadfoot of the Broadfoot & Broadfoot gallery in Boonton, NJ. All sculptures on exhibit in A Sculpture Trail are available for purchase, with a percentage of the proceeds donated to Friends of Laurelwood Arboretum to be applied towards capital improvements.