The Laurelwood Arboretum Board of Directors has named its newly completed propagation greenhouse the "Dorothy Knippenberg Propagation Greenhouse" in recognition of Dorothy's lifetime dedication to the hybridization of rhododendrons, azaleas, and other plants. In 1973, she was awarded the Bronze Medal by the New York Chapter of the American Rhododendron Society which acknowledged she was "a knowledgeable horticulturalist who has encouraged others to see truly the beauty of rhododendrons and to enjoy growing them." The dedication of the greenhouse is planned in the spring.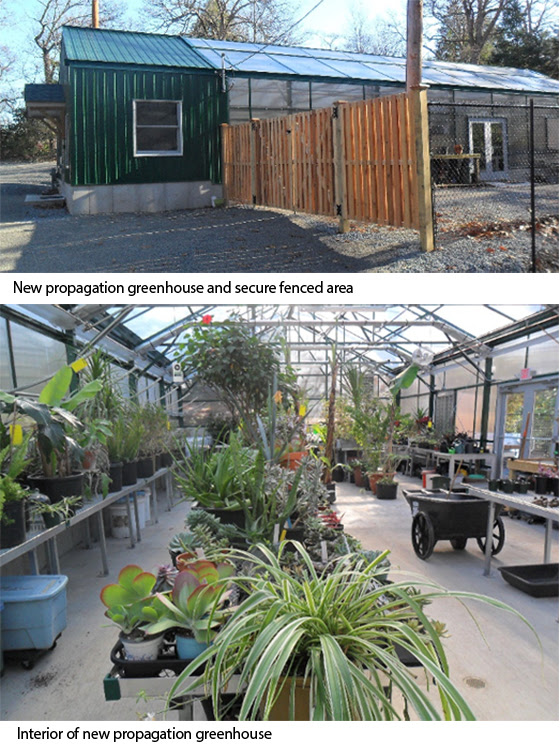 The new 1,600-square foot greenhouse is located on Home Hill in the arboretum at the site of the former (circa 1940) propagation greenhouse. The new greenhouse is equipped with automatic roof and side vents and shade system, horizontal airflow fans, gas hot-air heaters, sidewall exhaust fans, and an emergency standby generator as well as plant tables and racks and a large potting bench. A large secure fenced pen will be used for outdoor storage of plants, pots and materials.

Horticultural Manager Joan Scott-Miller has organized a team of volunteers who will care for the plants in the greenhouse on Monday, Wednesday, and Friday mornings over the winter. Volunteers are required to wear face masks and practice social distancing in the greenhouse. The greenhouse is being used to overwinter our many exotic and other plants removed from our sensory garden and other display gardens. The volunteers will also propagate plants during the winter months for placement in the arboretum in the spring and summer. The greenhouse is also used for our rhododendron propagation program where we are currently rooting stem cuttings taken this fall from many of the arboretum's mature hybrid rhododendrons.

Funding for the greenhouse was provided by a grant from the Passaic County Open Space, Farmland and Historic Preservation Trust with supplemental funding from the Township of Wayne and Friends of Laurelwood Arboretum.

A similar team of volunteers will be working in our Educational Greenhouse next to the Knippenberg Center for Education, caring for plants overwintered in the greenhouse and outside in our fenced pen, propagating plant stem cuttings, and growing plants from seeds for our annual plant sale in the spring.