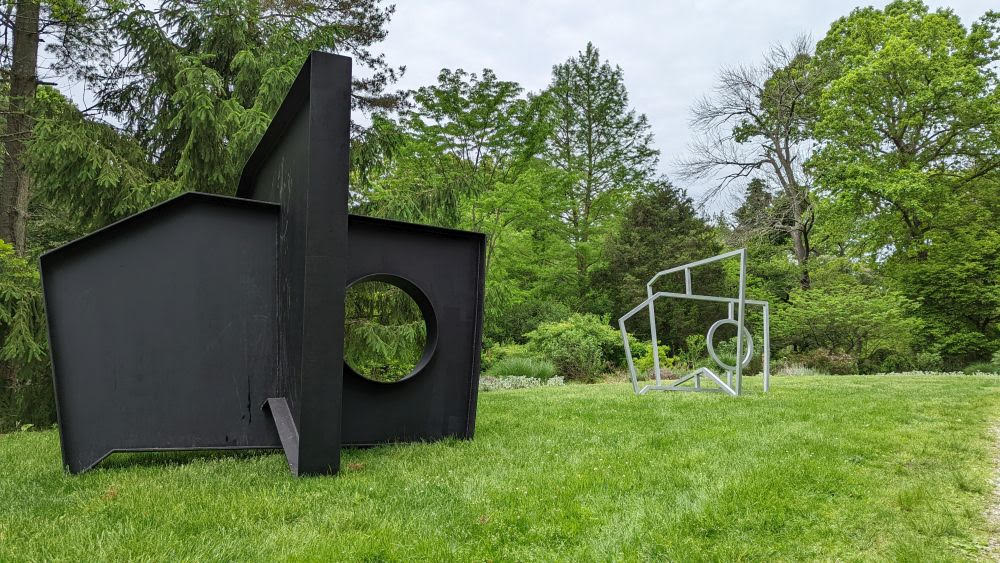 The most-recent Sculpture Trail installations at Laurelwood Arboretum are Punch and Punch Line, two works with the exact same outer dimensions—one a solid form in painted steel and the other an outline in aluminum of the silhouette. According to Fitzhugh Karol, their creator, the solid black form felt "Punchy," while the line-drawing version was an experiment to discover how a solid and heavy form might take on a lighter feeling by becoming a tracing of itself.  The works can be viewed together in the grassy area at location 14 of A Sculpture Trail at Laurelwood Arboretum, 725 Pines Lake Drive West in Wayne.
Fitzhugh Karol is a Brooklyn, New York-based sculptor whose work ranges from large scale outdoor installations to intimate tabletop pieces.  He sculpts in wood, metal, and clay to fashion works that explore man's imprint on the landscape and creates playful spaces that become an inviting and unconventional way to experience art.  One of his best-known works is Approach, installed at the beginning of the Mario M. Cuomo bridge path in Rockland County, New York.  The sculpture utilizes steel from both the Governor Mario M. Cuomo Bridge and its predecessor, the Tappan Zee.
Punch and Punch Line are the most recent installations in A Sculpture Trail.  The multiyear project, which will showcase 15 unique works of art, is sponsored by Friends of Laurelwood Arboretum to benefit the arboretum.  A Sculpture Trail is curated by Scott A. Broadfoot of the Broadfoot & Broadfoot gallery in Boonton, NJ.  All sculptures on exhibit in A Sculpture Trail are available for purchase, with a percentage of the proceeds donated to the Friends organization to be applied towards capital improvements.
To follow the progress of A Sculpture Trail installations on Instagram go to  https://www.instagram.com/laurelwoodsculpturetrl/ A GoFundMe page has been set up to accept donations for the project. To contribute, please go to  https://gofund.me/058cd464