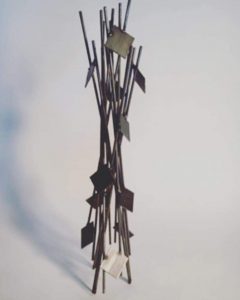 The official kick-off celebration for The Sculpture Trail at Laurelwood Arboretum will be held on Sunday, March 22 from 2 pm to 5 pm at the Broadfoot & Broadfoot gallery — A Collection of Fine Art, located at 819 Main Street in Boonton, New Jersey.  Art and nature lovers are invited to welcome spring in this unique gallery setting. The event will feature live music performed by Grant Swift, an acclaimed vocalist and guitarist. Guests can enjoy delectable hors d'oeuvres and desserts, varietal wines and craft beer while surrounded by contemporary art and sculpture. Free parking is available at the Plane Street Municipal lot, directly across the street from the gallery.
A highlight of the event will be a Silent Auction of art and collectibles by Bill Barrett, Joel Perlman, Robert Koch, Richard Heinrich and other acclaimed artists. A selection of the gallery's featured sculpture and paintings will be available for sale. A portion of the proceeds will be donated to Friends of Laurelwood Arboretum.
The March kickoff has been planned to raise funds to defray the costs of implementing The Sculpture Trail, a creatively curated sculpture walk through Laurelwood Arboretum, which is located in Wayne, New Jersey. Advance-purchase tickets for the reception are $50 per person or $60 per person at the door. Early registration is suggested, as space is limited. Tickets can be purchased online at www.laurelwoodarboretum.org/scultpure-trail-tickets.
The Sculpture Trail is a multi-year, education and enrichment project planned at Laurelwood Arboretum. It will showcase more than 15 sculptures by prominent artists that will serve to enhance the park by complementing its landscape and serene setting. Some of the same artists whose work is on exhibit at Storm King and Grounds for Sculpture are participating in this project. The first of the sculptures, Brickhead Iyemoja, by James Tyler Sculptor, is already in place. The sculptures will be available for sale, with a percentage of the proceeds donated to Friends of Laurelwood Arboretum, a volunteer non-profit conservancy whose mission is to preserve, promote and improve this unique 30-acre park in partnership with Wayne Township.