At the August 21th meeting of the Wayne Town Council, Bob Lesko, President of Wayne Subaru, and Charles Moltane, Business Development Manager, presented facsimiles of checks for $4,268. to Friends of Laurelwood Arboretum and for $4,904 to Wayne PAL. These donations were made through the Subaru of America, Inc. annual Share the Love event.
Since the Share the Love program was established 11 years ago, Subaru has donated more than $140 million to national and local nonprofit organizations. The company donated $250 for every Subaru vehicle purchased or leased at more than 628 participating Subaru retailers nationwide to the customers' choice of charity. Local Subaru retailers had the opportunity to add hometown charities for their customers to support.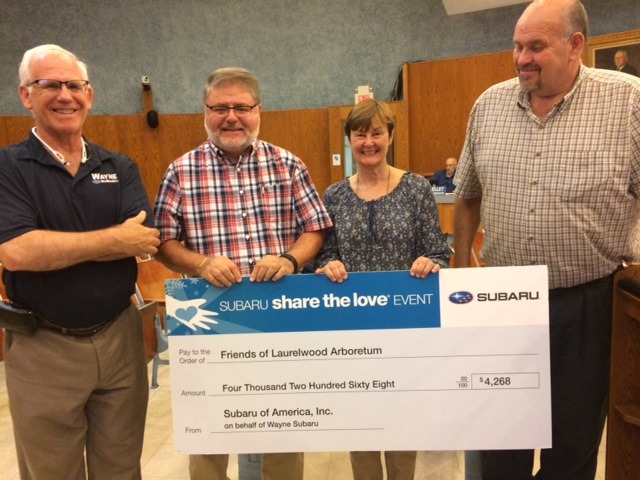 "At Subaru, we and our retailers are passionate about using this platform to positively impact local communities and the causes our customers care most about, simply because it is the right thing to do," said Alan Bethke, senior vice president of marketing, Subaru America.
"We are grateful to Wayne Subaru for including our nonprofit organization in the list of charities that their customers can choose from for the second year in a row," said Linda Ransom, President of Friends of Laurelwood Arboretum. "This donation will go far in our work to maintain Laurelwood Arboretum as a destination for everyone who loves nature."