Friends of Laurelwood Arboretum will host an exhibit of photographs of large-scale sculptures by Paul Sisko, metal sculptor and wood and metal furniture artisan. The photographs will be on display from July 2 through July 31 at the Knippenberg Center for Education at Laurelwood Arboretum, 725 Pines Lake Drive West, Wayne.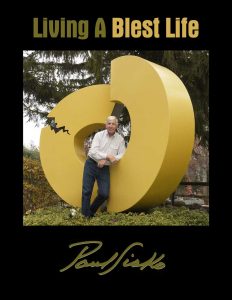 The Opening Reception for the exhibit is scheduled for Sunday, July 14, from 2:30 to 4 pm. Sisko will talk about the trajectory of his career and discuss his creative process. Admission is free, and the public is invited to attend. For anyone who wishes to see the exhibit at another time, the Knippenberg Center is open Tuesdays through Sundays from 12 noon to 4 pm.
Sisko is a contemporary sculptor and furniture maker who uses metal, wood, stone and glass in his designs. His work spans sizes small to large, both interior and exterior. He has created small table pieces, wall reliefs and furniture as well as massive steel outdoor pieces. In recent years, he has turned his artist's eye and creative energy to the gardens surrounding his 3.5 acre Mahwah home, where he has incorporated many of his contemporary steel sculptures.
"Much of my sculpture relates to a series of separations or cutouts and the concept of giving metal a look of softness or tension," Sisko said. "Starting with a basic geometric shape, I attempt to visually change the piece by partial or complete separation along with the process of bending, twisting, crushing or tearing." Sisko's works are on display at universities, museum, hospitals, corporate sites and sculpture gardens around the country.