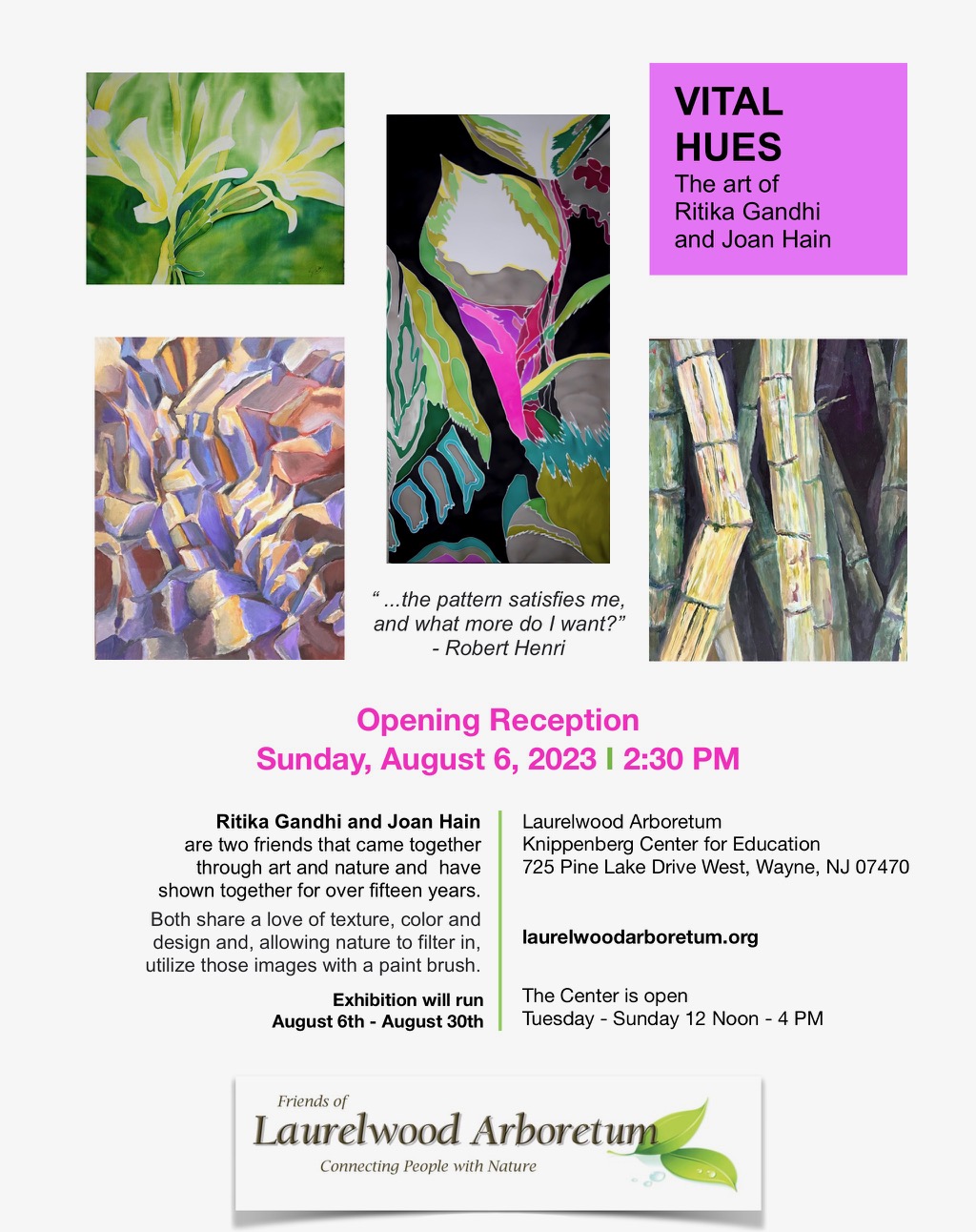 Friends of Laurelwood Arboretum will host Vital Hues, an exhibit of works by Ritika Gandhi and Joan Hain, at the Knippenberg Center for Education at Laurelwood Arboretum, 725 Pines Lake Drive West, Wayne from August 6 through 30.  Gandhi and Hain are two friends who came together through art and nature and have exhibited together for more than 15 years.  They share a love of texture, color and design and have been spotted at Laurelwood practicing their art.
The Opening Reception for the exhibit will be on Sunday August 6 at 2:30 pm.  Admission is free, and the public is invited to attend.  For anyone who wishes to view the artwork at another time, the Knippenberg Center is open Tuesdays through Sundays from 12 noon to 4 pm.
Wayne resident Ritika Gandhi is an artist who has benefitted from various cultures.  After completing her education in textile designing in India, she began to experiment applying traditional Indian techniques to modern textiles.  She worked as a designer for a large textile manufacturing company and then moved to New York, where she was a freelance textile artist.  She later earned a degree in Fine Art at the Reading College of Art and Design in London.  Gandhi teaches batik and silk painting and alcohol ink painting at area art schools.
Joan Hain received a Bachelor in Fine Arts degree at Pratt Institute in New York and a Masters in Art from C. W. Post University.  She taught high school art on Long Island for 36 years.   Now living in Wanaque, she teaches weekly art classes in her community and at a local elementary school.  Hain continues to work in clay, paint, glass and, most recently photography.