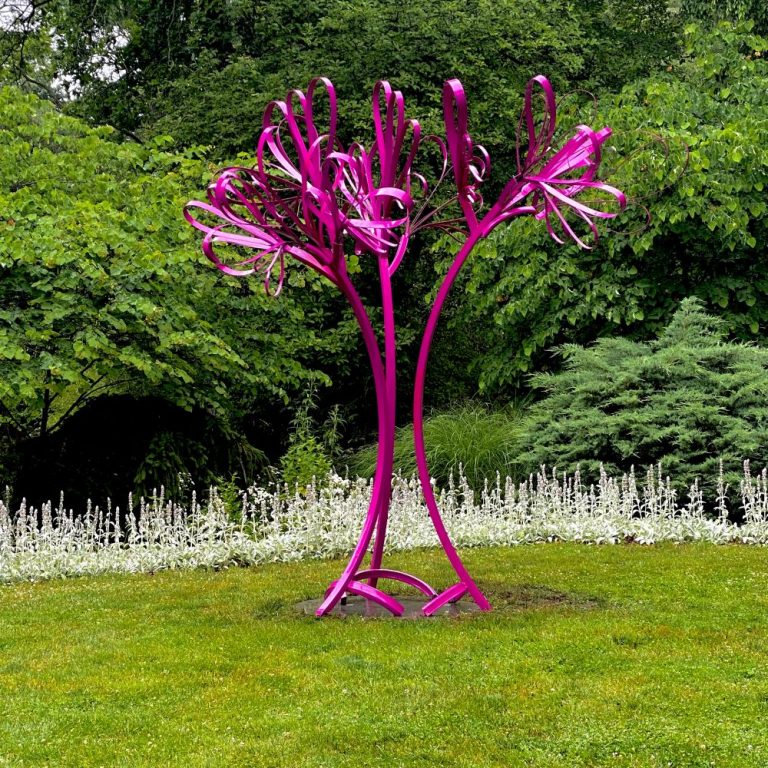 "Squirt," a fanciful work by artist Vivien Collens, was recently installed in A Sculpture Trail at Laurelwood Arboretum, 725 Pines Lake Drive West in Wayne, New Jersey.  "Squirt" can be seen  along Ridge Road across from the Redwood Glade.  The colorful piece made of powder-coated aluminum soars 12 feet in the air.  It is one of a series of sculptures in which Collens uses welded  geometric components to create fluid  organic forms suggesting trees or fountains.  "The 'Squirt' series speaks to my interest in energy and architectural  forms, seeking to establish an organic relationship between the two and address human interventions in the landscape," she said.
Born in Cleveland, Ohio, Collens is a mid-career abstract artist whose current work features  large-scale site-specific sculptures.  Her first free-standing sculptures were displayed in 2015 in a solo exhibition, "Urban Studies and City Blocks," at the Rockefeller Center Gallery of Gensler Architects.  With an irreverent playful approach, she began developing larger sculptures focusing on urban architecture and energy.  During a residency at Salem Art Works, Collens learned to weld and has since installed large-scale works at a number of sculpture parks, museums and private collections.
Collens earned a Bachelor of Fine Arts degree at Carnegie Mellon University and a Master of Fine Arts at the Institute Allende in San Miguel de Allende, Mexico.  Her early work focused on painting and relief wall constructions.  
A Sculpture Trail, a multiyear project that showcases 15 unique works of art, is sponsored by Friends of Laurelwood Arboretum.  A Sculpture Trail is curated by Scott A. Broadfoot of the Broadfoot & Broadfoot gallery in Boonton, New Jersey.  All sculptures in A Sculpture Trail are available for purchase, with a percentage of the proceeds donated to the Friends organization to be applied towards capital improvements.  To follow the progress of A Sculpture Trail installations on Instagram go to https://www.instagram.com/laurelwoodsculpturetrl/