Master Gardener Lourdes Osorio has a mission—to create a welcoming world for butterflies, bees and other pollinators, one garden at a time. While many people see insects as a threat, she sees them as essential to a healthy ecosystem.
"Insects are the most numerous organisms on earth, and only a small number are pests," Lourdes says. "Our insect populations are in a precipitous decline that threatens human survival. Insects provide the U.S. alone with an estimated $70 billion in services essential to our survival, such as crop pollination, waste decomposition and pest control," she explains. "In addition, many insects control garden pests. For example, dragonflies and damselflies eat mosquitoes and ants, beetles and spiders feed on ticks. It is an absence of insects we should fear."
In her efforts to protect beneficial insects, Lourdes created a butterfly garden at her New Jersey home. As she learned more and more about the need to nurture pollinators, she shared her knowledge by writing and lecturing. Three years ago, she launched her own Native Plant Channel on YouTube and has posted more than 40 videos on gardening topics. These include tours of numerous public and private gardens, plants in bloom by month, plants for specific situations (attracting pollinators, fireflies, deer resistance, etc.)  Each of these takes Lourdes many hours to create using iMovie software. She takes all of her own videos with a trusted video camcorder.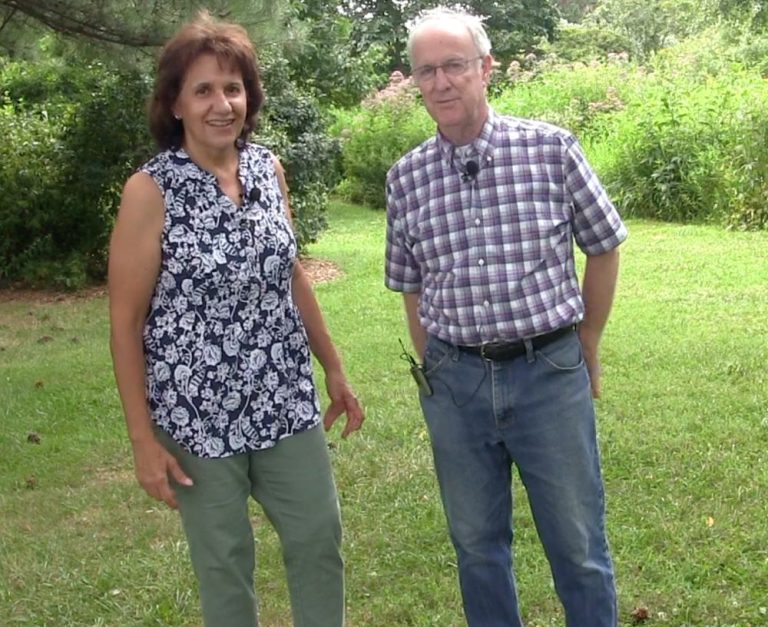 Lourdes's most recent YouTube posting is an educational video she created in collaboration with Dr. Douglas Tallamy, a renowned professor, writer and lecturer. She videotaped Dr. Tallamy on the grounds of the Lepidoptera Trail, which he created at the University of Delaware's Botanic Garden. In the video, he talks about reducing lawn areas and replacing them with habitats that support a healthy ecology by encouraging pollinators and beneficial insects. He also discusses his vision for Homegrown National Park, an
effort to spread the word that everyone can take steps to support a healthy ecosystem. To view the video, go to  Ecological Landscaping-Ideas For ALL Homeowners available free of charge on Lourdes's Native Plant Channel.
In addition to her efforts as a Master Gardener, Lourdes is a Friends of Laurelwood Arboretum volunteer. She serves on the Board of Directors, writes a regular column for its E-news and works with a dedicated team to maintain the arboretum's Native Plant Garden.