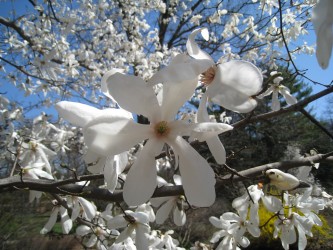 Spring is on its way, and Friends of Laurelwood Arboretum has launched its annual Gift of Green campaign to raise funds for the start of the gardening season. Gift of Green donations help provide the resources to recreate our Sensory Garden after its winter rest, to landscape the Summer Garden and to add annuals for color and texture at our entrances.  These are but a few of the many projects planned for 2022.
Donations can be made online at www.laurelwoodarboretum.org or mailed to Friends of Laurelwood Arboretum, PO Box 07474-2433, Wayne, NJ 07474-2433.  We thank our members and many friends for their generous support.
Laurelwood Arboretum continues to be open from 8 am to dusk every day. Its 30 acres of beautiful woodlands and gardens are just waking up from their winter's rest, and early spring blooms are already plentiful.  On April 24, renowned author Doug Tallamy will present a special program on how to create a wildlife habitat in your own backyard. And the ever-popular Plant Sale will be held on May 7th and 8th from 9:30 am to 2 pm.