'Robber's Roost' is one of two new installations in A Sculpture Trail at Laurelwood Arboretum, 725 Pines Lake Road in Wayne.  This brings the total to 10 out of the 15 pieces that will be included in the project.  The 9-foot-tall sculpture by Jon Krawczyk was fabricated from polished steel and enamel paint.  The artist is known for transforming sheets of metal into large-scale sculptures. He cuts, pounds, and welds the sheets to fashion smooth, monolithic forms that look as though they were carved by a Samurai slicing clay.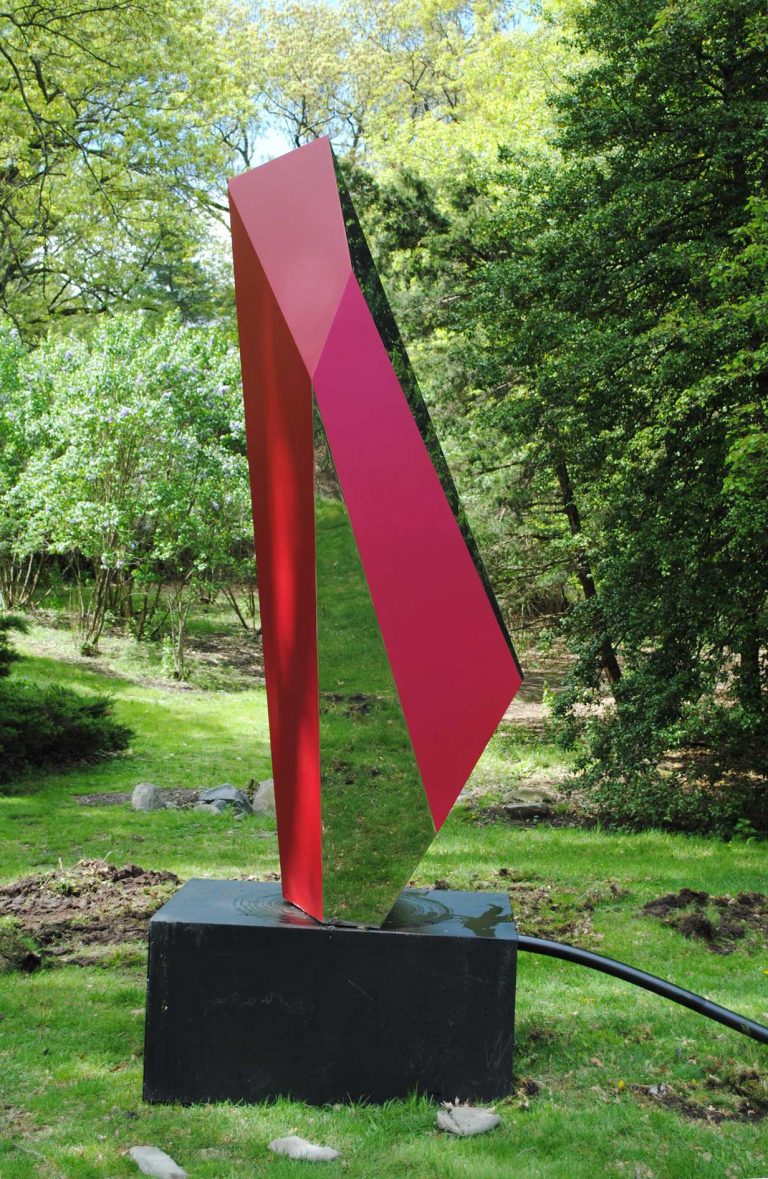 Krawczyk lives in Malibu, California. After graduating from Connecticut College, he traveled throughout Europe to study fine art before moving to the American west in the 1990s.  Early in his career, he apprenticed with a number of renowned American metal sculptors. Over the last 20 years, Krawczyk has parlayed these life experiences into his characteristic aesthetic approach and studio practice. 
Krawczyk's most recent projects are large-scale, site-specific, public art installations at high-profile locations in regions of Silicon Valley-San Francisco Bay, Seattle-Bellevue, Los Angeles-Beverly Hills, and metropolitan New York / Newark, NJ.  He has also mounted solo exhibitions at Garboushian Gallery in Beverly Hills; Broadfoot & Broadfoot Gallery in New York; Lumina Gallery in Taos, New Mexico; and KL Fine Art in Chicago
The second new installation at Laurelwood Aboretum is 'Morning Dialogue,' a 19" x 14" x 14" Italian marble sculpture by Ulla Novina.  She is an artist who tells stories in stone. "One morning, I saw the sun's rays land on this stone. and its internal texture and colors revealed themselves in the sunlight," she said.  "I always strive to achieve an aesthetic balance between the stone itself and my carved form – a bold union."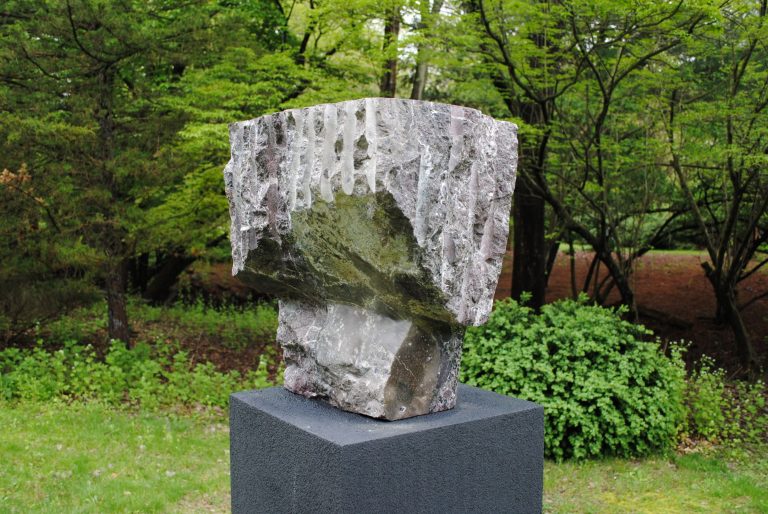 Novina was born in Sweden and raised in the county of Skåne, an area known for its generosity of spirit, boisterous humor, and exuberant expression of life.   In later years she lived in Värmland, known for its mysterious forests and deep lakes.  It is the county of dreamers, storytellers, poets, musicians, painters, and sculptors. The spirit of those counties fuels her creativity.
Novina studied sculpture and drawing at the Sculpture Studio of Minoru Niizuma, the New School of Social Research and the Art Students League in New York, as well as at the Ridgewood School of Art and Design in New Jersey.   She is a former board member of the Art Center of Northern New Jersey and president of the Art Center Sculptor Affiliates.
Solo exhibitions of Novina's work include Broadfoot & Broadfoot SoHo in New York; Belskie Museum of Art and Science in Closter, NJ; the Bergen Museum of Art and Science in New Jersey; and Piermont Fine Arts Gallery in Piermont, NY.  Her work is in permanent collections at the Dana Farber Cancer Institute in Boston; the Schering-Plough Corporation in Madison, NJ; the Bergen Museum of Art and Science in Paramus, NJ; and Broadfoot & Broadfoot Gallery in Boonton, NJ.
A Sculpture Trail is sponsored by Friends of Laurelwood Arboretum and is curated by Scott A. Broadfoot of the Broadfoot & Broadfoot gallery in Boonton.  All sculptures on exhibit in A Sculpture Trail are available for purchase, with a percentage of the proceeds donated to Friends of Laurelwood Arboretum to be applied towards a capital improvement project.
To follow the progress of A Sculpture Trail installations on Instagram go to  https://www.instagram.com/laurelwoodsculpturetrl/ A GoFundMe page has been set up to accept donations for the project.  To contribute, please go to  https://gofund.me/058cd464
Photos by Lorraine Meyer