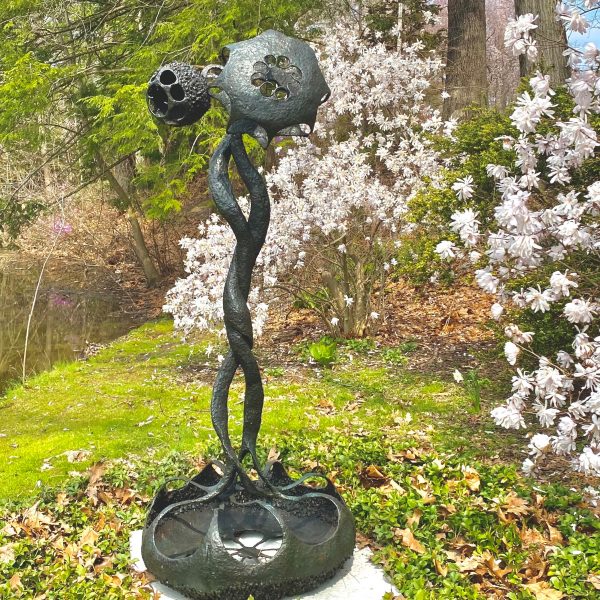 "Dyad," a welded steel abstract sculpture by artist Martha Walker, is the newest addition to A Sculpture Trail at Laurelwood Arboretum, 725 Pines Lake Road West, Wayne, New Jersey.
The 6'10" piece, fashioned from meticulously dripped molten steel, is based on the scientific double helix. Walker's process of dripping liquid steel one drop at a time in order to build up massive forms allows for a unique combination of texture and line that is difficult to execute in steel.
"Throughout my tedious process, time passes quickly, while at the same time, stands still," Walker said. "I am fueled by an obsessive drive to create something personal and unique through my art. With every line, each silhouette, and form, I ask myself: Is it pure? Is it Me? Have I shown integrity in my process to reflect my own truth? The results must be as strong and effective as humanly possible."
Walker obtained a Bachelor's Degree in Fine Arts and a Master's Degree in Art Education at the Pratt Institute in New York. Her recent solo exhibitions include Turning Inward at Denis Bibro Fine Art, Chelsea, New York and Broken World, Anxious Heart at the Sylvia Wald and Po Kin Gallery, New York. In 2019, Walker's "Separation Anxiety" sculpture was selected for the final episode of season seven of the television show "Orange is the New Black."
A Sculpture Trail is sponsored by Friends of Laurelwood Arboretum and is curated by Scott A. Broadfoot of the Broadfoot & Broadfoot gallery in Boonton, New Jersey. All sculptures on exhibit in A Sculpture Trail are available for purchase, with a percentage of the proceeds donated to Friends of Laurelwood Arboretum and applied towards a capital improvement project.
To follow the progress of A Sculpture Trail installations on Instagram go to  https://www.instagram.com/laurelwoodsculpturetrl/ A GoFundMe page has been set up to accept donations for the project. To contribute, please go to GoFundMe – Sculpture Trail 
Friends of Laurelwood Arboretum is the non-profit conservancy whose mission is to preserve and manage the 30-acre arboretum in partnership with Wayne Township. For additional information about A Sculpture Trail or the Friends organization, go to www.laurelwoodarboretum.org,
"Dyad" by Martha Walker