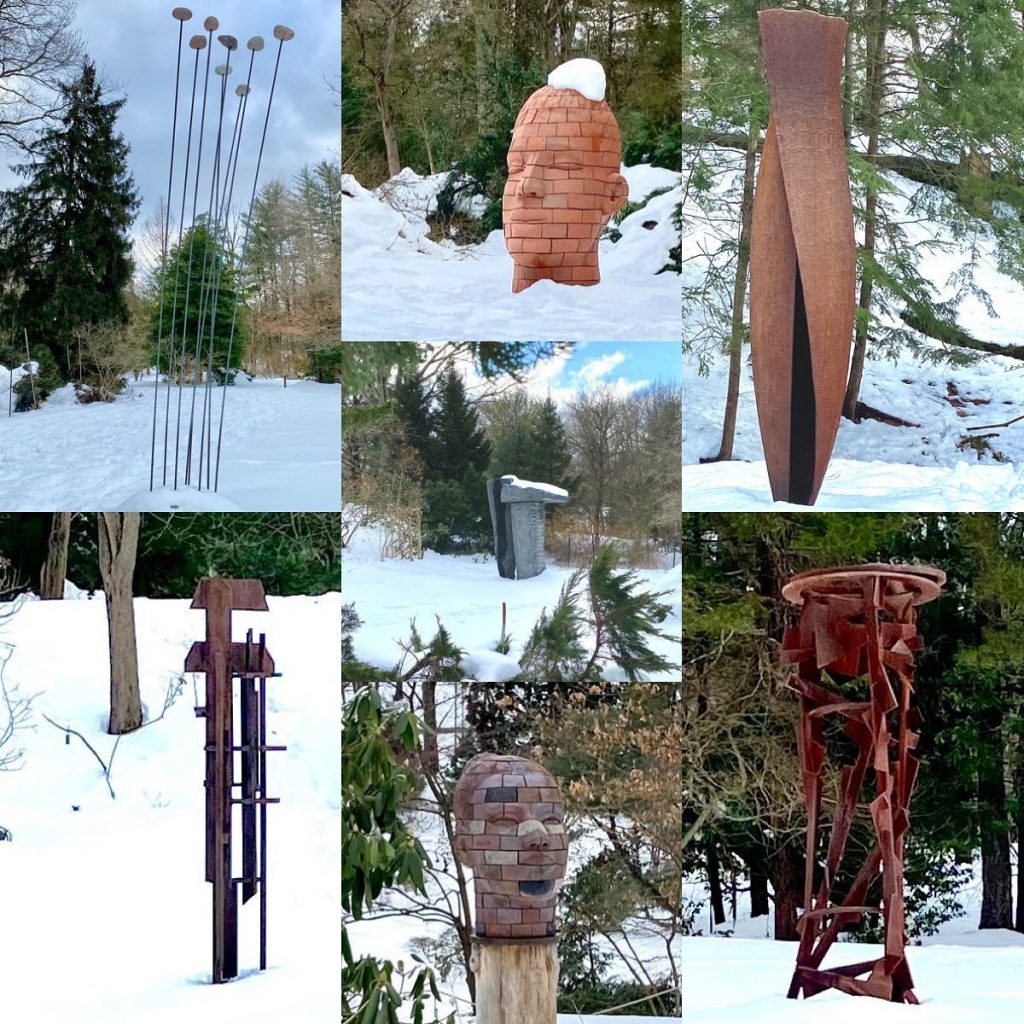 For the past several months, visitors to Laurelwood Arboretum have been enjoying sculptures on display that are part of A Sculpture Trail, an innovative outdoor exhibit sponsored by Friends of Laurelwood Arboretum. This multiyear project will showcase 15 sculptures by renowned artists. Seven exciting pieces have been installed so far, with five more expected this Spring.
To continue to bring this vision to life, Friends of Laurelwood Arboretum is seeking sponsors to help defray the many costs related to the project.
 A variety of sponsorship opportunities are still available, including sponsorship of one of the unique sculptures, educational programs, cellphone and docent-led tours, and more. Sponsorships by individuals, businesses or charitable foundations are available for donations of $500 to $5,000. For additional information, please go to www.laurelwoodarboretum.org or click HERE for a complete list of sponsorships.
Each work of art in A Sculpture Trail has been carefully curated and placed to create a visual surprise around every corner. Included are pieces by Bill Barrett, Joel Perlman, Richard Heinrich, Jeffrey Breslow, Ken Hiratsuka, Martha Walker, Robert Koch, Ulla Novina, and James Tyler. Several of these artists have works on exhibit at Storm King in New York and Grounds for Sculpture in New Jersey. To enhance the project, we are developing educational programs for children and adults, docent-led tours, a self-guided cell phone tour, and a series of in-person and virtual events.
A Sculpture Trail is being curated by Scott A. Broadfoot of the Broadfoot & Broadfoot gallery in Boonton, New Jersey. Chairpersons are longtime Laurelwood supporters Leslie and Stuart Reiser. All of the sculptures on display are available for sale. A percentage of the proceeds will be donated to the Friends organization to be applied to a capital improvement project to benefit the arboretum.
Friends of Laurelwood Arboretum is planning a grand opening of A Sculpture Trail in the fall of this year at Laurelwood Arboretum, which is located at 725 Pines Lake Road in Wayne, New Jersey. The celebration will feature a weekend of special events for adults and children.
You can follow the progress of A Sculpture Trail installations on Instagram at https://www.instagram.com/laurelwoodsculpturetrl/
Friends of Laurelwood Arboretum is a non-profit conservancy whose mission is to preserve and manage the 30-acre arboretum in partnership with Wayne Township. To get involved, send an email to  info@laurelwoodarboretum.org or call 973-831-5675.