Friends of Laurelwood Arboretum will host its long-postponed Plant Sale on Friday, June 19 and Saturday, June 20, from 9:30 a.m. to 2 p.m. Social distancing and masks are strongly recommended. The arboretum is located at 725 Pines Lake Drive West (entrances at Vale Road and Pines Lake Drive West) in Wayne.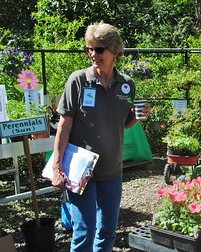 The plant sale will feature rhododendrons, azaleas, ornamental evergreens and special plants from the arboretum grown in the greenhouse from cuttings. There will also be a selection of high-quality annuals and perennials, container gardens, and hanging plants. Payment will be by check or cash only. Members of Friends of Laurelwood Arboretum will receive a 10% discount on the purchase of plants.
Friends of Laurelwood Arboretum is the nonprofit organization dedicated to preserving and maintaining Laurelwood in partnership with Wayne Township. All proceeds from the plant sale will help to support the arboretum's maintenance, operations and public programs. For further information please call 973-831-5675.