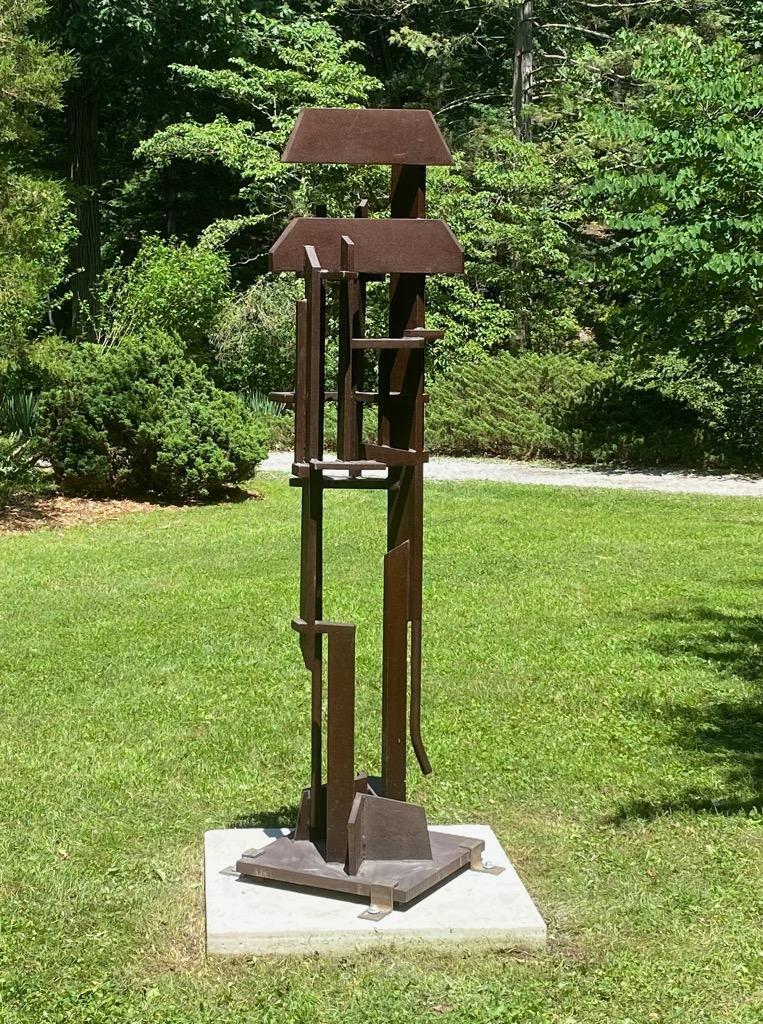 "Mingus II," a steel sculpture by artist Richard Heinrich, is now on exhibit at Laurelwood Arboretum. The piece is the third of 15 sculptures to be featured in A Sculpture Trail, a multiyear project sponsored by Friends of Laurelwood Arboretum to benefit the arboretum. The project is designed to enhance the garden by complementing its landscape and serene setting.  Brickhead Iyemoja by James Taylor and Oxidized Pod by Robert Koch are already on exhibit in the arboretum. Additional installations are planned in the coming months. A map showing the location of "Mingus II" and all the sculptures is available online at www.laurelwoodarboretum.org and at the notice board in the arboretum.
As he works in his Tribeca, New York studio, Heinrich listens to music. The titles of his work often reflect the strong influences of Charles Mingus, Thelonious Monk and other jazz artists. "Mingus II" is a self-portrait of the artist. Its title refers to the nickname Heinrich's college classmates gave him because of his love of jazz.
Heinrich has exhibited his sculptures at the Boulder Museum of Contemporary Art in Colorado, the Cleveland Center for Contemporary Art in Ohio, Hofstra University in Hempstead on Long Island, Manhattan Community College, and at Pier Walk 98 in Chicago. His works can also be seen at The Donald M. Kendall Sculpture Gardens at PepsiCo in Purchase, New York; Jane Voorhees Zimmerli Art Museum at Rutgers University, New Brunswick campus; the New York Public Library in Manhattan; Herbert F. Johnson Museum of Art at Cornell University, Ithaca, New York; and at corporate headquarters and private homes across the country.
A Sculpture Trail is being curated by Scott Broadfoot of the Broadfoot & Broadfoot Gallery in Boonton, New Jersey.  Chairpersons of the project are Stuart Reiser, a partner in the firm Shapiro, Croland, Reiser, Apfel & DiIorio and pro bono attorney for the Friends of Laurelwood Board of Directors, and his wife Leslie, both long-time Pines Lake, Wayne residents. A GoFundMe page has been set up for donations to help cover installation and signage expenses for the project. To contribute, please go to GoFundMe.  
Heinrich's sculpture and other works in A Sculpture Trail will be available for sale, with a percentage of the proceeds donated to Friends of Laurelwood Arboretum, a 501 (c)(3) non-profit organization.
Friends of Laurelwood Arboretum is the non-profit conservancy whose mission is to preserve and manage the 30-acre arboretum in partnership with Wayne Township. For additional information about The Sculpture Trail or the Friends organization, go to www.laurelwoodarboretum.org, send an email to  info@laurelwoodarboretum.org or call 973-831-5675.